Your own web apps. On your own space.
Vision
La Distribution can be easily explained with two simple metaphors:
"The iPhone of Web Servers"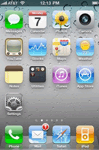 Imagine if you were able to use your personal web server like you use your personal smartphone.
Any need? Simply install an application. Productivity, Publishing, Social Networks, the catalog is growing.
No config files. No FTP. No SSH. No hassle. Never.
In the future we're building, every internet user will deserve a personal web server. Eventually powered by La Distribution...
"The Ubuntu of Web Apps"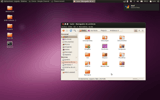 Imagine if someone decided to assemble all these nice Open Source web applications and libraries. It would be his job to make them work nicely together, with taste.
For each component, every time a new version would be released, it would be carefully reviewed, packaged and made available to the users.
One day, we dreamed about that, and decided to build it, this is what we've done with La Distribution.
Features
Here are 5 key features that make La Distribution an unique experience:
1. One Click Install
You certainly already heard about something like that elsewhere, but trust us, it had never been that easy to install Web Applications.
And once they are installed, timely updates are always provided so that you always run the latest version and are always covered by security fixes. That's unique.
2. Single Sign On
Use an unique user account across all applications. One unique password to remember, for everything.
How people used to live without that before? We could not, this is to solve this kind of problems we decided to build La Distribution.
3. Unified UI
The same base UI is shared across all applications: navigation, settings, color schemes. For the end user, it's not just a few web applications running side by side, it's an integrated experience.
Of course, each application is free to break the rules to do what is best for the user.
4. Data Freedom
Every single bit of data can be archived/backuped in one click.
These archives can be re-imported at will. Cloning an application takes only a few seconds.
Not satisfied with your web host? La Distribution removes every friction, moving elsewhere had never been made easier.
5. Hackable Platform
La Distribution is a truly open and hackable platform welcoming contributions. Everyone can create new applications, package existing applications and share his works with the world.
Not satisfied with La Distribution itself? Hack plugins, hack the source. Our code is GPL/MIT licensed, this mean you're free to do what you want with it.
More Features
Not enough or want to know more? Here are 5 more features:
News Feed
Customize your public profile to consolidate your online activity.
Set up your personalized feed to read everything you want to be notified about.
CLI
Install applications from the command line. Make crazy scripting stuff possible.
Security
Everything you need to strength your install and fight spam is available as a plugin. Bouncer, SSL, Akismet, ReCaptcha, ...
Services
Integrate with popular web services. Twitter? Dropbox? There should be an app for that.
OpenID
Your La Distribution installation is out of the box an OpenID provider. It's also a relying party for signing in.
Get it now!
You have two fundamentally different options:
Technical savvy?
Have a PHP/MySQL web hosting?
What are you waiting?
Don't understand how to install it?
Or too lazy?
Want the simplest experience?
Learn more
We eat our own dog food and use web apps to fuel the project:
Blog

Important updates about the project.

Wiki

Our collaborative documentation effort.

Forums

Support from the team and community.
But sometimes we can't do everything with La Distribution :-(
Be sure that's a bug we are working on!