I commited last week an interesting design update for La Distribution.
While, it was not on the roadmap for the next version, it's part of a background effort, aiming to always have a simpler, easier & nicer user interface.
So, how does-it looks? (On the left, earlier version, on right, updated).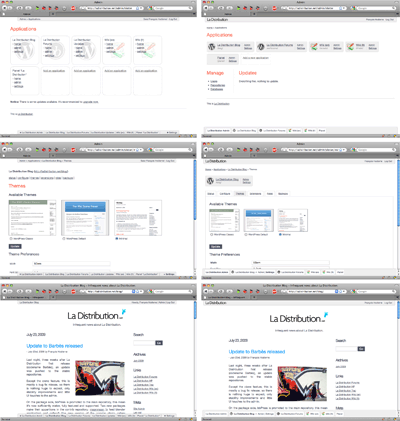 Hmm, what changed? Well:
The Super Bar (on the bottom) start to looks a little bit like a dock, far better.
The Top Bar is much simpler, with a small logo on the left, and user/session informations on the right.
In the admin application, bread crumbs are now in an expected place, just bellow the Top Bar.
The application list is completely refreshed, more colorful, looks fresher.
The application settings panels now feature tabs to navigate between different sections
Generally, the default width is now simply 1000px instead of the old weird value calculated in ems.
It's of course not a final version. For example, we'll likely add a bit of color before next release. Also, maybe we'll rely more on ajax/javascript to offer a more responsive feeling, and accelerate some user scenarios.
You can already test the updated version, you just have to use the SVN or Edge flavor. As always, we're waiting for you feedback!