That's not a secret, we're working hard. Today, 9 months after our last release "Danube", our next release code named "Europe" is ready to test.
What's new?
User Interface
As always the UI has been heavily enhanced. The bottom bar is gone, and the top bar has been updated with a very handy global menu.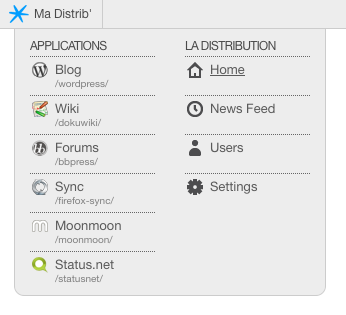 A new login box let you sign in more easily by remembering recently used identities: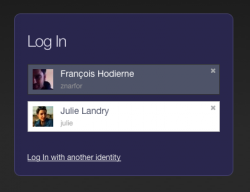 You can now easily customize the global colors of your La Distribution installation, and define colors application by application. We also added an online CSS editor for advanced customizations.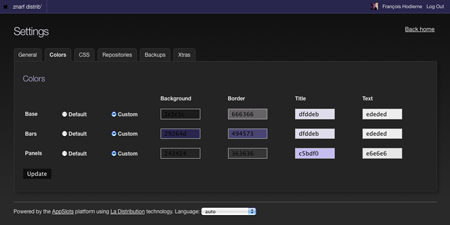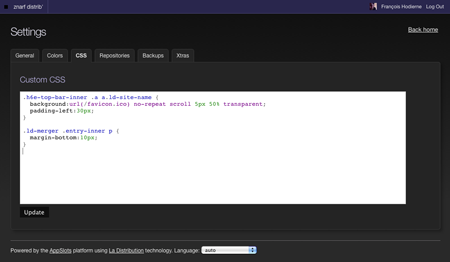 The News Feed
La Distribution can now merge the content generated by all the installed applications to produce:
a Public Feed: that help you consolidate your online activity and let everyone subscribe to it.
a Personal Feed: that let you read everything you want to be notified about.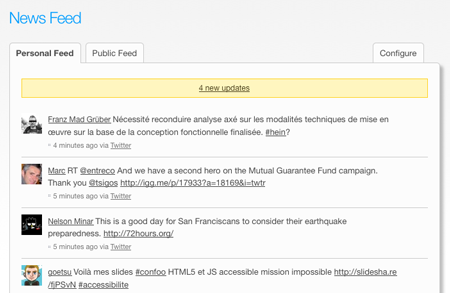 Using RSS/Atom and Activity Streams, every developer can write simple web applications that will fuel content into this news feed: RSS, Statuses (Twitter, Identi.ca, Status.net), Bookmarks, Photos and everything that can be imagined.
Data Freedom
La Distribution had always let users generate and download a backup of their applications in one click. This backup could be restored or used to create a clone in just one other click.
Now, we're going one step further, you can backup / and restore your entire site in one click. Migrating to another web server is just a matter of uploading an archive.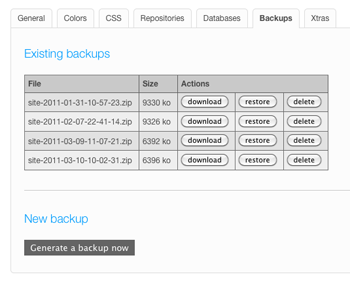 Miscellaneous
It's difficult to integrally cover 9 months of hard work in a single blog post. But we'll try to at least to mention the other important changes:
we updated all supported applications to their latest versions: WordPress 3.1, DokuWiki 2010-11-07a, Firefox Sync 1.5, Status.net 0.9.6
we added some new useful libraries to the system: Limonade, a micro-framework for rapid web development and prototyping, and CodeMirror for "in the browser" code editing.
package downloads are more reliable, as we now check their integrity before installing it.
as experimental feature, you can activate Multi Domains support. It's not ready for prime time but it's definitely usable and we need feedback on it.
another experimental feature, Multi Sites, let you create "children" La Distribution installations into your main La Distribution install. For example, this is useful if you want to use La Distribution for a group and want to easily create one La Distribution web site for every user.
How to get it?
We hope you're now convinced that Europe is our best release ever. Maybe you're now wondering how to get it? There is two options:
On your own server
As always, if you have your own web server, you can install it very easily with our installer. Check out the install page on our wiki.
And if you're already using La Distribution, no worry, you should already be using the latest version!
AppSlots
If you don't understand how to install it, or are too lazy, or want the most simple experience, we have something for you.

AppSlots, the hosted service powered by La Distribution is about to open. With AppSlots, users get a subdomain in username.appslots.com with La Distribution pre-installed, perfectly configured and optimised.
At launch, AppSlots will feature two offers:
AppSlots Beta: Available in very limited quantities, AppSlots Beta will be for people who want to help us test La Distribution. It's totally free (for at least 1 year) but we'll expect some feedback from you to help us understand your needs and improve the service.
AppSlots One: Also available in limited quantities, AppSlots One is the premium service we were dreaming about. For 14,99 euros / month, you will get a (virtual) dedicated server, automated backups, your own domain name, and more goodies over time.
To be the first to get an account with one or the other offer, we recommend you to subscribe on the AppSlots home page.
Looking forward
We believe "Europe" will be our most important release to date, and really hope it will bring more people to La Distribution.
Following current trends, there is good chances our next updates will be more frequent and incremental, and so "Europe" may be the last big release of its kind.
We really hope you'll like it!