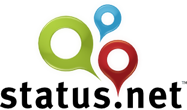 After Firefox Sync, Status.net is the second application to join this month La Distribution growing list of supported applications.
For those who don't know it, Status.net is the leading open source Twitter alternative. It allows users to install their own microblogging service for their company, their community, or simply for a personal use.
How did we integrate it in La Distribution?
As always, we provide one click install, one click updates, Single Sign On with La Distribution accounts, a default theme that integrate nicely with other applications.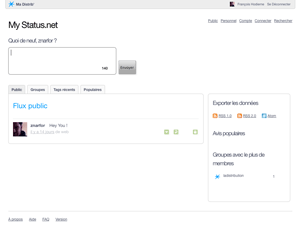 For this first version, we also deactivated Status.net default plugins. We prefered to start with a very simple user experience, and see what's needed based on user feedback and real world scenarios. We're pretty sure the needs of a La Distribution user are not the same as one of an Identi.ca user.
Open Source collaboration
Good citizens, we maintain our own Git clone, keeping our modifications documented and ready for merge into Status.net mainline when needed.
For instance, we submitted our Table prefix support. At first, it was rejected due to code style issues, and we definitely understand why. We later proposed to contribute an enhanced version, at the condition the Status.net team promise to integrate it when it's done. Like everyone, we don't have time to waste ;-)
Supported != bug free
In La Distribution, Status.net is now a supported application, but this doesn't mean there is no issue, or bugs with it. This actually means we commit to investigate every reported issues, fix bugs when it's possible, and when needed, collaborate with 3d parties (status.net, the various clients supporting status.net). This also means we'll make sure the package is systematically updated to the last version in a reasonable timeframe.
We're big fan of Status.net and are really enthusiast to now have this application in our catalog. Their commitment to web decentralization is totally aligned with our objectives. Guys, keep up the good work and long life to the Open Web!