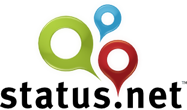 After Firefox Sync, Status.net is the second application to join this month La Distribution growing list of supported applications.
For those who don't know it, Status.net is the leading open source Twitter alternative. It allows users to install their own microblogging service for their company, their community, or simply for a personal use.
How did we integrate it in La Distribution?