Few news from the La Distribution front since our last release, 3 months ago. To be frank, things were a little bit slow lastly!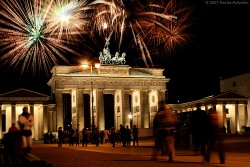 In October/November, i was very occupied relocating from Paris to Berlin, and December was all about family and friends. In January, back on track, i didn't work on a new major release but small updates on top of Concorde: package updates, security, performances, stability.
The name for this release is Concorde 2 and you'll find a detailed changelog on an external page.
La Distribution is currently used in production on a few websites, and I'm learning a lot from this experience. Near all latest improvements come from real world usage and that's a terrific thing.
For the future, Concorde will continue to be maintained, and if needed we'll release a third version. Also, as soon as possible, we'll start working on the next major release.
The focus of this next release is to code what we need to deploy our appslots.com service, which represents what we think a mainstream hosting provider should be in 2010. To achieve this goal, the main features will be 'multi domains' support and hackability (through plugins, hooks, filters, …). Cool uh?
La Distribution is an open project, so feel free to join the fun :-)
Happy New Year !