A decent photo album application is definitely a must have for La Distribution. It's a top feature, needed by near every user. Who doesn't have at least one photo camera, and a bunch of photos to upload these days?
When i reviewed the available PHP powered solutions, it seemed that Gallery2 was the most serious solution: pretty well commented code, solid installer, good community. Other evaluated packages were Zen Photo and Coppermine Gallery, but as a developer & maintainer, i decided to focus on one.

And actually, Gallery2 was not the final choice … Few months ago, the team behind this application decided to rewrite everything from scratch aiming to build a better, simpler and more modular app. While I'm always suspicious about people that believe they need to restart their project from zero, it seems in this case it was not a bad idea. As of today, development had been relatively quick and the current beta is really promising.
What do i like about Gallery3?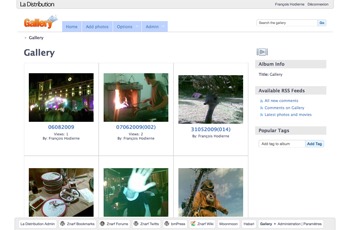 simple MVC code (powered by the Kohana framework)
mass uploader (in flash)
efficient organizer
support for GD or Image Magick (with appropriate detection)
out of the box Cool Iris support
installer available as a PHP class
modular
it works
You can test it from the "edge contrib" repository. The package is already pretty good, it supports Single Sign On and UI integration, but it's still in development, our quality guidelines being pretty rude.
I believe we should be able to have something excellent for (or during) the next major release. Exciting, go Gallery team!