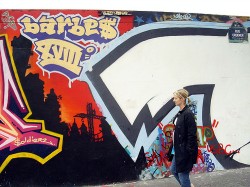 Last night, three weeks after La Distribution first release (codename Barbès), an update was pushed to the stable repositories.
Except the clone feature, this is mostly a bug fix release, so there is nothing huge to expect, only stability improvements and little UI touches to the admin.
On the package side, bbPress is promoted to the main repository, this mean it's now sufficiently stable, fully featured and supported. Two new packages make their apparitions in the contrib repository: moonmoon (a feed blender application) and gallery3 (the new version of the popular photo gallery application).
To get this new release, just update your current install, or if you don't have one yet, maybe it's time to install one with the web installer in a few seconds.
On the development side, a branch was created to help maintain this version while we'll be moving fast forward on trunk with the development of the new major version. An interesting point is that the now famous 3 flavors of La Distribution are at the time of writing exactly identical. This will not last long!
Bellow you'll find a more detailed changelog for this release:
Install
more solid web installer
SVN restructured to allow easy install for developers
support for environments without mod_rewrite
Admin
repositories are now sortables (useful because the firsts have the priority over the later)
nicer HTML tables
file older than 12 hours are purged from tmp repository
ability to clone an application from a backup (beta)
Packages
enforce new feature/quality guidelines for all 'main' applications

custom css (ability to add some custom css rules somehow)
registration (ability to register from the application)
topbar/superbar (ability to disable bars)

packages upgrades

bbpress 1.0-2 (and now in main repository)
wordpress 2.8-2
habari: support for configuration and backup/restore

new packages

moonmoon (feed blender) in contrib repository
gallery3 (photo gallery) in contrib repository
geshi based code colorer plugin for wordpress (in contrib repository)
jQuery table drag'n'drop plugin (in main repository)
Libraries
major refactoring pass, cleaner interactions between classes. [179]
SQL backup now handled by default. [185]
Photo: CC BY-SA Gilles Klein Barbes, les gens sont noirs les murs en couleurs